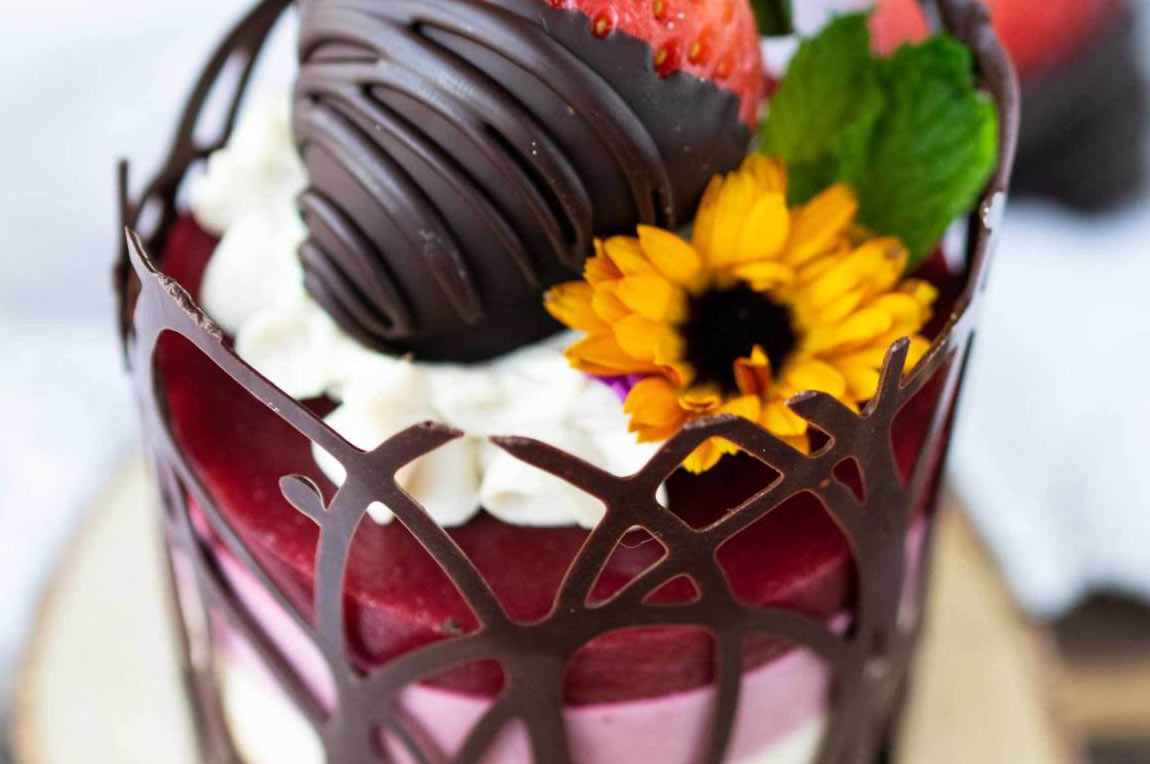 Chocolate Strawberry Cheesecake with Chocolate Lace
| Alysia Gaye
This article is used with permission from Crystal Bonnet who graciously shared one of her favorite recipes from this past Valentine's day. But we know you can eat this delicious Chocolate Strawberry Cheesecake any time of year.
When asked if she would share a recipe she replied, "Yes of course, I would love to share a recipe for your website, I have been using your essences in my recipes since 2015."
Thank you so much Crystal! Original article can be found here.
---
It's almost Valentine's Day so I thought I would post a very special recipe! This was my first time working with chocolate lace, and let me tell you… it's not easy! But it was super fun and I love the result!

Chocolate and strawberry pair so well together obviously, but I did not want to make a boring cheesecake. I added a strawberry layer made with agar agar, garnished with chocolate lace, vanilla icing and chocolate covered strawberries!
OOOH what a treat! I will be sharing this recipe with my family! This recipe looks daunting but trust me it's not that difficult. You can watch YouTube videos on how to make chocolate lace here.
This cake was inspired by the very talented Amy Levin. She is my biggest inspiration when it comes to raw desserts. This recipe reminds me of her Coffee Cherry Cheesecake she did a while back which taught me how to use agar! Now I'm obsessed with the stuff! It looks so beautiful on top of a cake.
Agar is a vegan substitute for gelatin. It is not raw as you need to boil it to activate the gelatin quality. It has many health benefits and is actually 80% fiber.
Happy Valentines Day to everyone and hope you enjoy this recipe!!
---
This cake is no-bake, plant-based, gluten-free and will wow your friends and family!

INGREDIENTS
Chocolate Cake Crust
1/2 cup almonds ground
1/2 cup dates soaked and pitted
1/4 cup + 2 tbsp oat flour
1/4 cup + 2 tbsp cacao powder
1/4 cup coconut sugar
1 tbsp irish moss paste
8 drops vanilla essence from medicine flower
pinch himalayan salt
Cheesecake Filling
2 cups cashews soaked
1/2 cup water
3/4 cup lakanto
1/2 cup coconut oil melted
1 tbsp lemon juice
12 drops vanilla essence from medicine flower
1/2 tbsp sunflower lecithin
Strawberry Cheesecake Filling
1 tbsp freeze dried strawberry powder
1/2 tsp beet powder
8 drops strawberry essence from medicine flower
Strawberry Jelly
1 cup strawberries fresh or frozen thawed
3/4 tsp agar
1/4 cup water
2 tbsp coconut nectar
1/4 tsp beet powder
INSTRUCTIONS
Chocolate Cake Crust
Process all dry ingredients in food processor until a flour forms.
Add wet ingredients and process until a dough ball forms.
Line the bottom of 2 x 4" springform pans with saran wrap, place crust firmly in bottom and set in the freezer while making the filling. 
Cheesecake Filling
Blend all ingredients except coconut oil in a high-speed blender until smooth.
Add coconut oil and blend again until well combined.
Split out into bowls.
Strawberry Cheesecake Filling
Add ingredients to one bowl with the cheesecake filling and whisk really well until combined.
Remove crusts from freezer, pour vanilla layer in, pat on counter to release air bubbles and set in freezer for minimum 1 hour before adding the strawberry layer.
Remove cakes from freezer, pour strawberry layer on and set in freezer again for 1 hour. Do not make the strawberry jelly until cakes are fully set. 
Strawberry Jelly
Blend strawberries with a 1/4 cup water in a blender until smooth.
Add all ingredients into a saucepan over medium heat and bring to a boil. Boil for 2 minutes.
Remove cakes from freezer, pour jelly evenly on top and set in the fridge for 10 minutes.
Remove cakes from fridge and garnish with chocolate lace and chocolate covered strawberries.
---
Crystal Bonnet is an International Raw Food Chef, Instructor and Cookbook Author. Her culinary passion started with living, plant-based food in her own kitchen which led her to train at industry leading culinary schools. Read more.