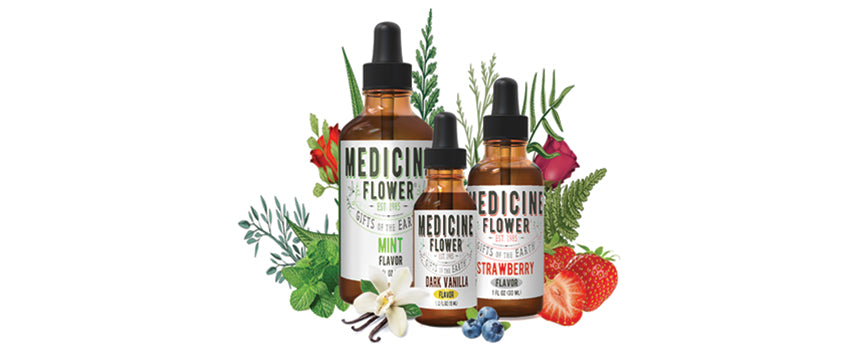 Flavors - Silver Line
Medicine Flower has been offering all natural and organic flavorings for over a decade. Our products are exceptional, bursting with delicious flavor and are extensively used in the food, beverage, cosmetics, supplements and other industries. We search the globe for the finest specialty ingredients and formulate highly concentrated products that both taste and smell incredible!  
Our Silver Flavor Line, previously only available to manufacturers as our II flavors, is made using highly concentrated, all natural plant derived active constituents in an alcohol base.  These flavors are food grade and excellent for use in culinary, scent and cosmetic applications. Water and oil soluble, they are highly concentrated and do not contain any colorants, artificial preservatives, proteins, carbohydrates, sugar, lactose, calories and are wheat, corn and gluten free.  
A few drops is all it takes to flavor anything from baked goods, shaved ice, tea, coffee drinks, ice cream, desserts and smoothies. Try a drop or two in your drinking water with ice for a refreshing gourmet treat! They also work well for scenting massage oils or lotions, balms, bath oils, soaps and candles. Silver Flavors are extremely potent, and are even stronger than flavors in our Premium Line. Care needs to be taken not to use too much!  Generally, 1-5 drops of our flavors equal up to a teaspoon of other flavors.